Users of EVS and MVS
With Microsoft's release of Service Pack 2 for Windows XP, many software packages have stopped working properly.
C Tech is happy to inform its users that this is not the case with EVS or MVS.
Floating license users will need to reconfigure their systems to handle licensing issues.
Instructions are available below.
Upon running EVS or MVS, you may notice a screen which pops up the first time you run EVS or MVS which looks like the following: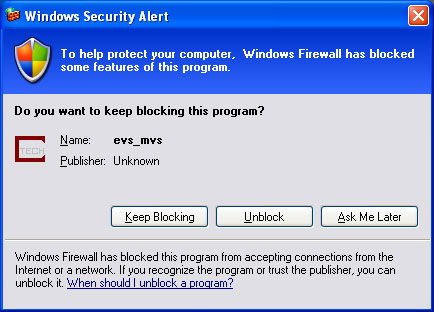 This is not a cause for alarm. EVS and MVS briefly open a network socket to handle some of its floating license issues. The connection is closed almost immediately after being opened, and as such, does not leave an open connection available as a security vulnerability. Users are free to choose the "Keep Blocking" option – it should have no effect on the running of EVS or MVS. Once you choose an option, this window should never appear again.
Floating License Users
Floating License and Premier License customers will have to setup their systems to work properly after installing Service Pack 2. End users (clients) will have no issues, but all floating license and premier license servers will need to explicitly allow the license server to listen for licensing requests. This can be accomplished as follows.
First, on the license server, you will need to open the new Windows Security Center from inside of the Control Panel.
Once inside the Windows Security Center, choose to Manage Security Settings for Windows Firewall.
Choose the Exceptions tab at the top of the screen as in the following screenshot: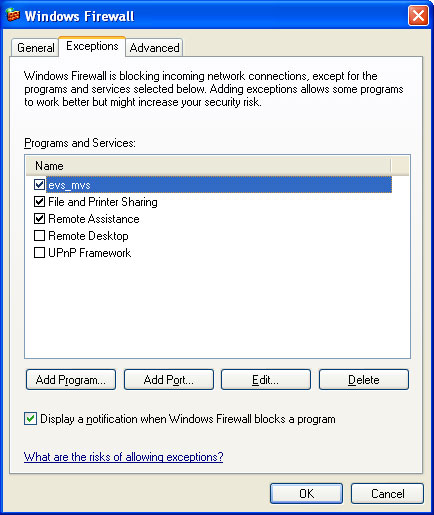 Choose the "Add Program…" button to add the Floating License server to the list of allowed programs. You will need to browse to the folder where you installed the license server, and choose the file ServiceCTechLicense.exe. This is installed to C:Program FilesC Tech Floating License ServerbinFloat_Server by default.
NOTE: Premier License customers will need to choose the CTechPremierLicenseServer.exe program file, which is typically installed in C:Program FilesC Tech Premier License ServerbinFloat_Server.
Once you choose "Open", the program should appear in your Windows Firewall list of Exceptions, as in the screenshot below: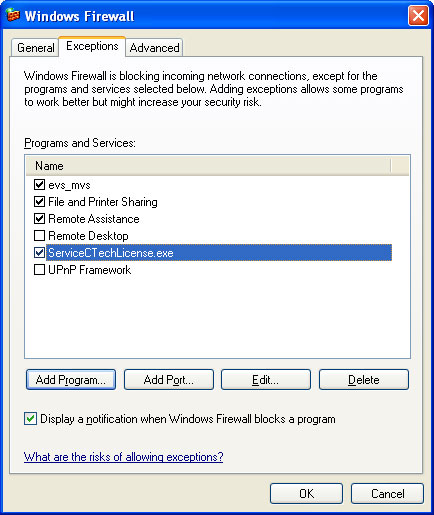 NOTE: Premier Servers will be listed as CTechPremierLicenseServer.exe.
If you choose "OK" in this screen, the license server will once again serve licenses correctly.
If you have any issues or questions, you can always contact C Tech Technical Support regarding compatibility issues.
Thank you.