User Showcase: GHD (previously Conestoga-Rovers & Associates)
GHD has used C Tech's EVS-PRO, MVS and Earth Volumetric Studio for 20 years on hundreds of projects including:
High-resolution topographic relief and digital aerial photography
Groundwater flow regimes and presenting 3-D modeling results
Above-ground facilities including buildings and storage areas
Below-ground facilities including underground storage tanks and sewers
Three-dimensional geologic models including block and fence diagrams
Groundwater plumes and changes in groundwater chemistry over time
From our experience, three-dimensional visualizations are extremely effective for understanding and communicating complicated environmental systems for our clients. In many cases involving litigation, three-dimensional visualizations of subsurface contamination have been instrumental in reaching settlements with plaintiffs. Visualizations have also been a great asset in presentations to both agencies and the public.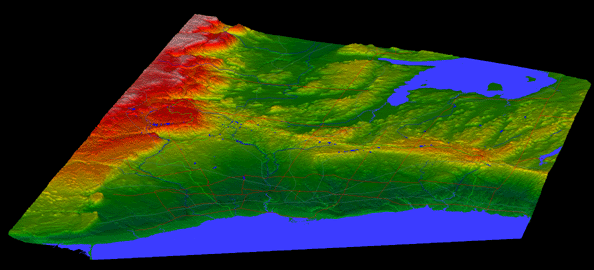 The Oak Ridges Moraine in Ontario, Canada was created when a weakening ice sheet split during the last great ice age nearly fifteen thousand years ago. The interlobate moraine was formed between the Simcoe lobe to the north and the Ontario lobe to the south. Known as southern Ontario's rain barrel, its permeable sands and gravels collect, store, filter and release water to over 65 watercourses flowing north and south into Georgian Bay, Lakes Simcoe, Scugog, Rice and Ontario. Recent work by the Geological Survey of Canada has focused on understanding the hydrogeology of the moraine.