Products: EVS Pro

The Environmental Visualization System (EVS-Pro) product line which began 25 years ago is retired as of December 2015. Though we will continue to offer technical support to customers with maintenance, there will be no new development or software releases for this product. This is not the end, it is the beginning!
We began working in 2011 on the successor to EVS-Pro and MVS: Earth Volumetric Studio, which we refer to as Studio. Studio is a free upgrade for all MVS customers, and provides many new features which I am confident will impress you and your customers.  EVS Pro customers are urged to contact C Tech for highly discounted upgrades to Studio.
EVS Pro was C Tech's original product for state-of-the art analysis, visualization and animation. EVS Pro began in 1991 and was available through 2015.  It included advanced gridding, model building, output options, geostatistics capabilities, animation and GIS functions to accommodate litigation support, public relations and the more demanding requirements of earth science professionals. Additional features include high level animation support, terrain fly-over, advanced geologic modeling, interactive fence-diagrams, 4DIM (required a license 4DIM player), database connectivity, and much more.
EVS Pro Combined:
Site wells, borings & measured data
Site geologic observations
Site buildings (3D or outlines)
Site roads, topography, etc.
Aerial photographs
Soil contamination
Ground water contamination
Ground water flow
Lakes, rivers, & ocean data
Air and/or noise pollution levels
Volume Rendering
EVS Pro's volume rendering offered another fully three-dimensional visualization technique for representing contaminant plumes.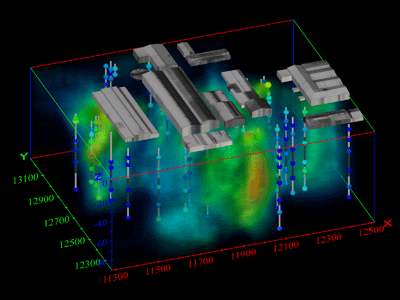 Area Cut & Transparency
EVS Pro's area cutting function and transparency were used to create the visualization to the right which shows the contaminant levels along the downward projected building outlines. The five geologic units are exploded to reveal the 30 ppm plume in each layer.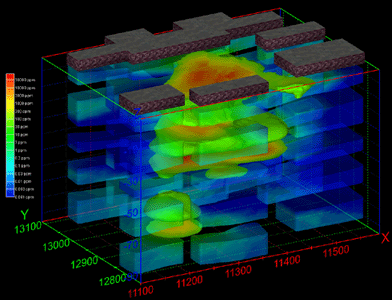 Interactive Fence Diagrams
EVS Pro allowed you to interactively create fence diagrams by slicing through true 3D models representing chemistry and/or geology.